An avid theater lover, Israela Margalit has written both comedies and dramas. Five of her full-length plays have been produced to audience and press acclaim, thanks in great part to the collaboration of brilliant creative teams. Her plays, Night Blooming Jasmine, 3 O'clock in Brooklyn, Get Me a Guy, and First Prize, were premiered in New York. Get Me a Guy (a comedy) won Best Production, and got nominated for Outstanding Writing at the New York Midtown International Theater Festival. Her play Trio (a drama) was premiered in Moscow in a Russian translation, where it played for nearly seven years to sold out houses while also touring throughout Russia and the Ukraine. Trio received an Ovation-recommended production in Los Angeles, and a subsequent production in Hungary, which won Best Actor for the two leads.
She wrote short plays, of which Under the Bench won Outstanding Play Honorary Mention, the New York 14th fifteen-minute Play Competition. She wrote the book and lyrics for Sex Today, Love Tomorrow, a comedy of manners with 19 songs (Oran Eldor, music) which has received industry readings in New York and Berlin. One of Margalit and Eldor's songs, Beware, was a Runnerup at the 2016 Song of the Year Competition, and won the 2016 Mid Atlantic Song Contest, Early Bird Selections.
She is the founding artistic director of politiKos, New York Political Theater Festival, and the artistic director of Moonlight Theatre Productions, which, among others, has served as a platform for the first readings of new plays.  She has been an active participant in the New York theater community as a board member of the Lark Theater, and an advisory board member of The Fire This Time Festival for emerging black playwrights.
Her produced plays are: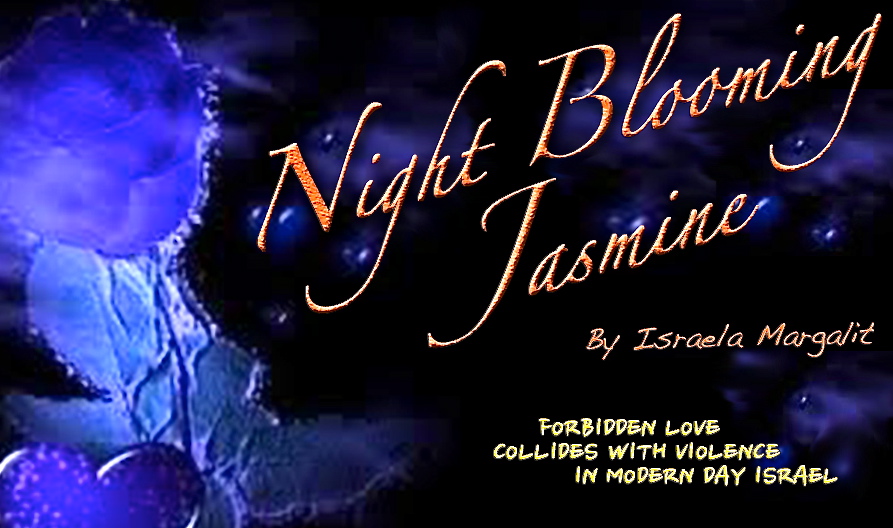 A drama. One set. Eight actors.
An Israeli war hero falls in love with a Palestinian woman in a tale of violence, tragedy, and loss.
"One man's terrorist is another man's freedom fighter."
"Composed in cinematic style of fast-moving scenes that shift between Jewish and Arab households in villages in Israel, with an occasional digression to the streets of Jerusalem, the neatly carpentered Night Blooming is instructive and engaging."
The New York Times
"An extraordinary theatrical experience."
Yediot America
"Tender and revealing. Charming and insightful."
The Jewish Week
"Gut-wrenching."
Backstage
New York, the Tribeca Playhouse, 2000. Directed by Jeremy Dobrish. Produced by Christopher Roberts. With Thom Christopher, Frances Anderson, Ian Kahn, Pierre Epstein, Joshua Annex, Dean Strober, David Josefsberg, Tricia Paoluccio, Danna Smith, Melissa Gabriel.
New York, Under St. Marks Theater, 2013. Directed by Artem Yatsunov. Produced by Kelley Girod. Presented by Horse Trade Theater in association with MTP. With Joseph Barbarino, Ari Shachtel, Alissa Razzano, Paul Anthony Knotts, Rita Rehn, Michael Twaige, Nuah Ozryel, and Shannon Sullivan.
A drama. One set. Five actors.
Schumann, Clara, Brahms: three musical giants love, admire, and nearly destroy each other in a conflict between artistic egotism and private passions.
"The artistic temperament can't survive unless it consumes everything in its path."
"If Jane Austen had written plays as well as novels, she might have written Trio. A wise and powerful drama. A must see."
Santa Monica Daily Press
"We thank Israela Margalit for lighting our soul. Not only light but taste and humanity such as we witnessed in this play full of humor, smoke of cigars, vanilla scent and wonderful music."
Russian Cultural Agency
"Intelligent, witty. The brilliance of the writing is astounding."
SoCal.com
"A play that plucks your heart strings."
The Epoch Times
Moscow, the Soveremenick Theatre, and tours throughout Russia and Ukraine, 2004 – 2011, Directed by Pyotor Stein. Produced by Yevgeny Morozov, Seven Stars Productions. With Emmanueel Vetorgahn, Evgenia Kryukova, Dmitry Isayev, Alexander Loye.
Los Angeles, the Lounge Theatre, 2011. Directed by Rick Sparks. Produced by Racquel Lehrman in association with Lublu productions.
With Bjorn Johnson, Meghan McDonough, Jeremy Shranko, Peter Collburn, Brian Normoyle.
Ovation-recommendation.
Vörösmarty Theatre in Székesfehérvár, Hungary, Hungarian Theaters Festival in Pecs. 2011. Winner Best Actor, Best Actress.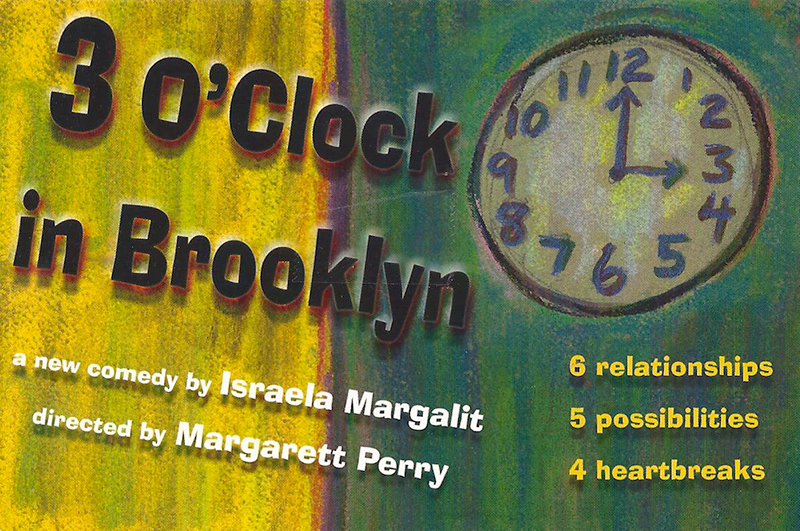 A comedy. One set. Six actors.
Five dysfunctional New Yorkers try to make sense of their messy love life.
"Some women marry the men of their lives, others marry the lives of their men."
"A jet-paced comedy of contemporary manners wowed us. This razor-sharp play (is) set in a seedy bar where lives collide in a wry, poignant modern-day search for love. Quirky, quippy, sophisticated delight."
The Nassau Herald
"A fun clever play that will delight you."
NYtheatre.com
"A great script."
Stage Press Weekly
New York, Access Theater, 2002. Directed and produced by Margarett Perry. With Jordan Charney, Kim Zimmer, Jesse Doran, Louisa Flaningam, Jeremy Webb, Erica Picinnini.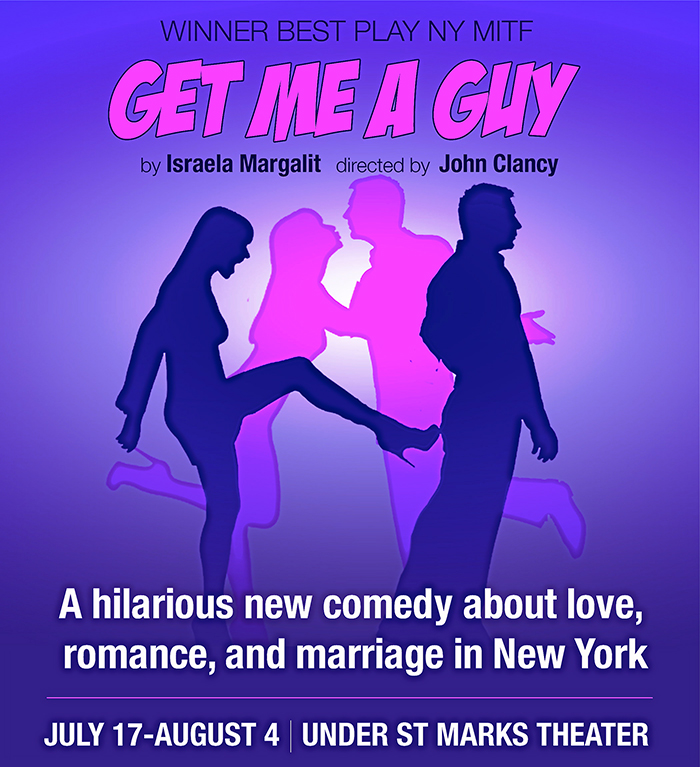 A comedy. One set. Four actors.
A comedy about women who chase the wrong men who chase the wrong women, and what happens after they catch each other –
or not.
"If Eve hadn't been shortsighted, we'd have had the last laugh. A woman as the chairman of the joint chief of staff."
"Comedy at its best, entertaining but completely honest and relevant. Hilarious, yet thoughtful and incredibly realistic. A wonderful play."
Womenabouttown.com
"Hilarious and inventive. It made me double over laughing."
Theatre is easy
"Highly recommended."
Newyorkcitygal.com
New York Midwinter Madness Festival, 2013. Directed by Christopher Diercksen. Produced by Kelley Nicole Girod.
With Samantha Debicki, Bethany Geraghty, Ben Kaufman,
Roger Nasser.
Winner Best Production, nominated Outstanding Writing,
the New York MITF
New York, Under St. Marks Theater, 2014. Directed by John Clancy. Produced by Kelley Girod. Presented by Horse Trade Theater in association with MTP. With: Elizabeth Galalis, Brennan Lowery, Wei-Yi Lin, and Paul Romano and an ensemble cast of Abigail Rose Solomon, Andrew Chaffee, and Zack Friedman.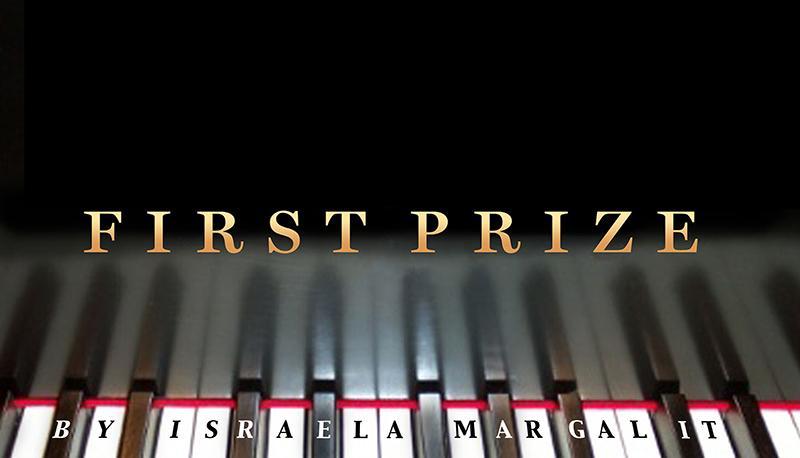 A drama. One set. Four actors
A young female pianist's quest for glory and fulfillment in  the cutthroat world of classical music.
"Call us after you've made a career and we'd be happy to discover you." 
"A fascinating tour. The story uses an interesting dynamic which follows the pattern of memory. (It) focuses primarily on the journey – the fights to audition, the failures, and the endless closed doors. Touching moments. Very enjoyable."
Reviewsoffbroadway.com
"'First Prize' hits the right notes. Last year, the acclaimed film Black Swan offered a worms-eye view of the competitive world of ballet. (First Prize) sheds a similar light on the cutthroat world of classical music."
newyork.nearsay.com 
"A deeply moving play."
Theatermania
New York, Arclight Theater, 2011. Directed by Margarett Perry. Produced by Adam Fitzgerald, Kef Productions. With Lori Prince, Brian Dykstra, Susan Ferrara, Christopher Hirsh.
Presumed Guilty
A ten-minute play. Three actors.
Access Theater, New York, "Gallery Works" Festival.
Directed by the playwright.
On the Bench
A fifteen-minute play. Two actors.
"As beautiful, subtle, and poignant as any play that I have seen
in New York this year."
My Entertainment
The Kraine Theater, politiKos, New York Political Theater Festival. Directed by John-Martin Green.
"Happiness" Festival, New York, the Drilling company. Directed by Hamilton Clancy.
Finalist, 911 short play competition, Los Angeles American Science Theater
Winner Outstanding Play Honorary Mention the 14th New York fifteen-minute Play Festival, the Globe Theater.
Directed by Jeremy Dobrish.